Two weekends a year, I spend ten hours sitting and listening to a religious broadcast. I enjoy the speeches, but if I just sit there I end up falling asleep. To keep my hands busy and my mind active, I've been painting during the broadcasts. And of course, what I paint is shoes.
You can see some previous painted shoes projects here and here.
Last October I began a pair of shoes for my son Nathan, but didn't finish them. So a few weeks ago, when the next broadcast was scheduled, I knew I would need at least a couple of hours to finish the last panel and the tongues of that particular pair. I told some family friends I would be happy to do some shoes for their son Ethan if they could get me the shoes by Saturday afternoon. I managed to finish two pairs of painted shoes in one weekend, and I'm happy with the way they turned out.
Nathan's Star Wars Shoes
Nate wanted his Converse All Stars painted with some of his favorite scenes from the original Star Wars trilogy. It's worth pointing out again that the constraints of these shoes sometimes make it difficult to chose subjects. The panels are always taller on one end, so we had to choose movie stills that worked for the available space.
Left Shoe, Outside: AT-AT Attack on Hoth (The Empire Strikes Back)
This still might actually be from a video game, but the composition worked really well for the shoe's side panel. I composited the T-47 airspeeder because of course I did.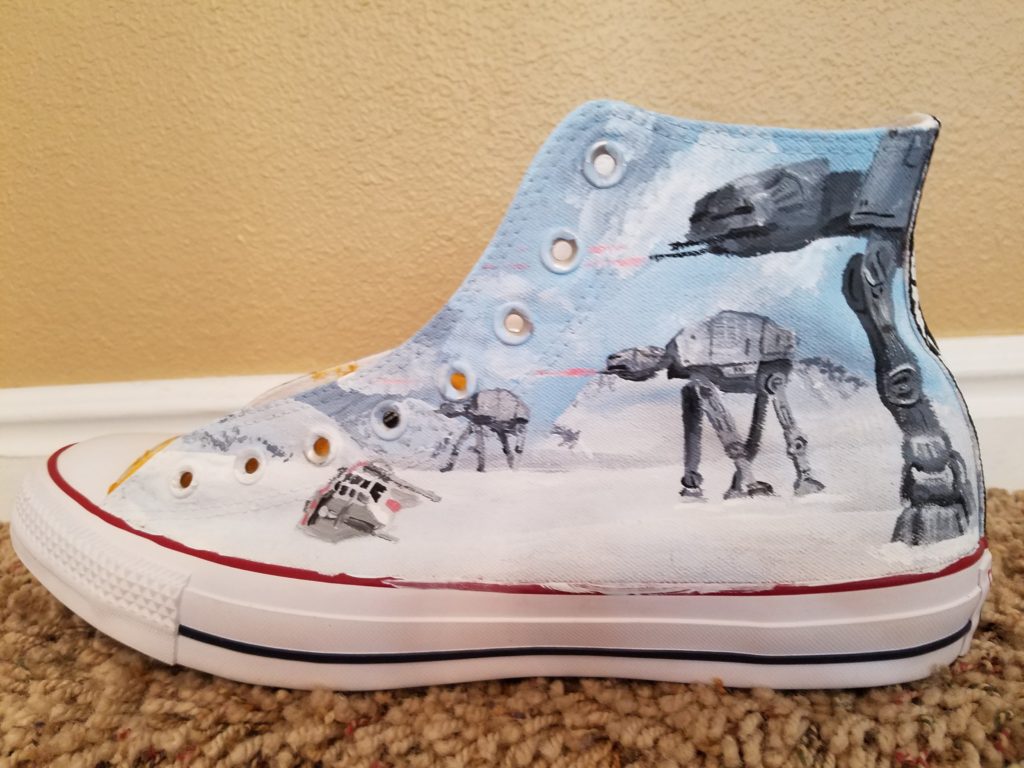 Left Shoe, Inside: Light Saber Duel (The Empire Strikes Back)
Probably one of the most memorable scenes from the entire series, the duel between Luke and Darth Vader is pretty dang awesome. Yes, this is the "I am your father" scene.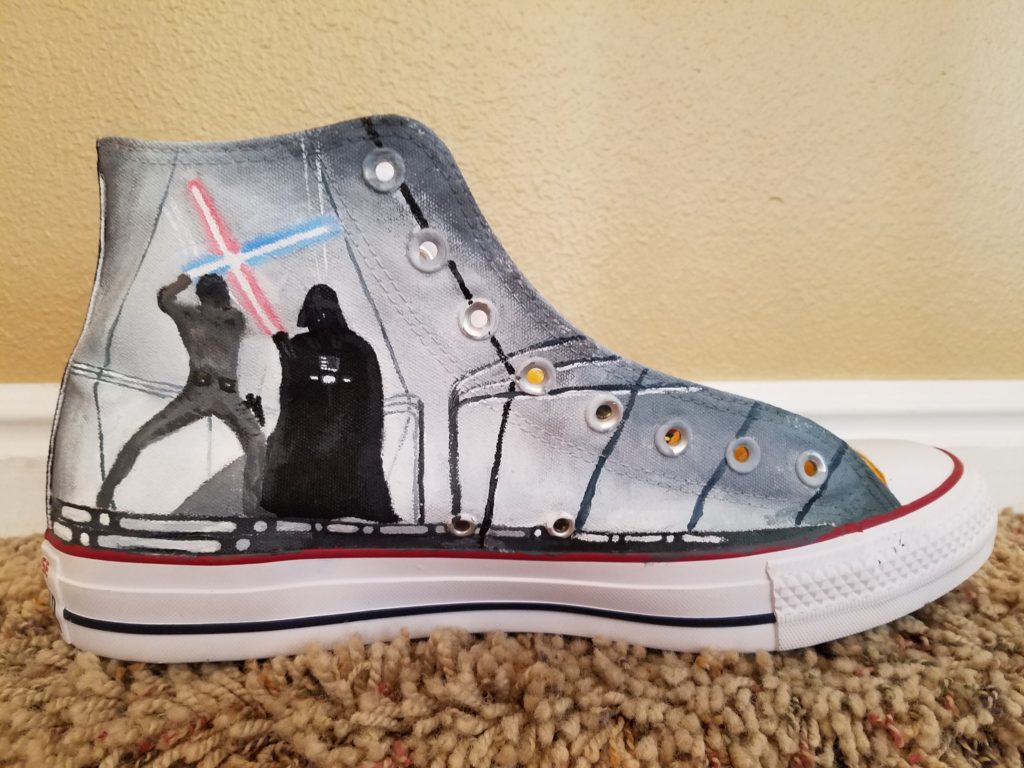 Right Shoe, Outside: Death Star Dog Fight (Star Wars: A New Hope)
It's tricky to paint space without just making it all black. The angle of the shot make the Death Star look lopsided, but it's actually round. I had fun with the shading to make things pop.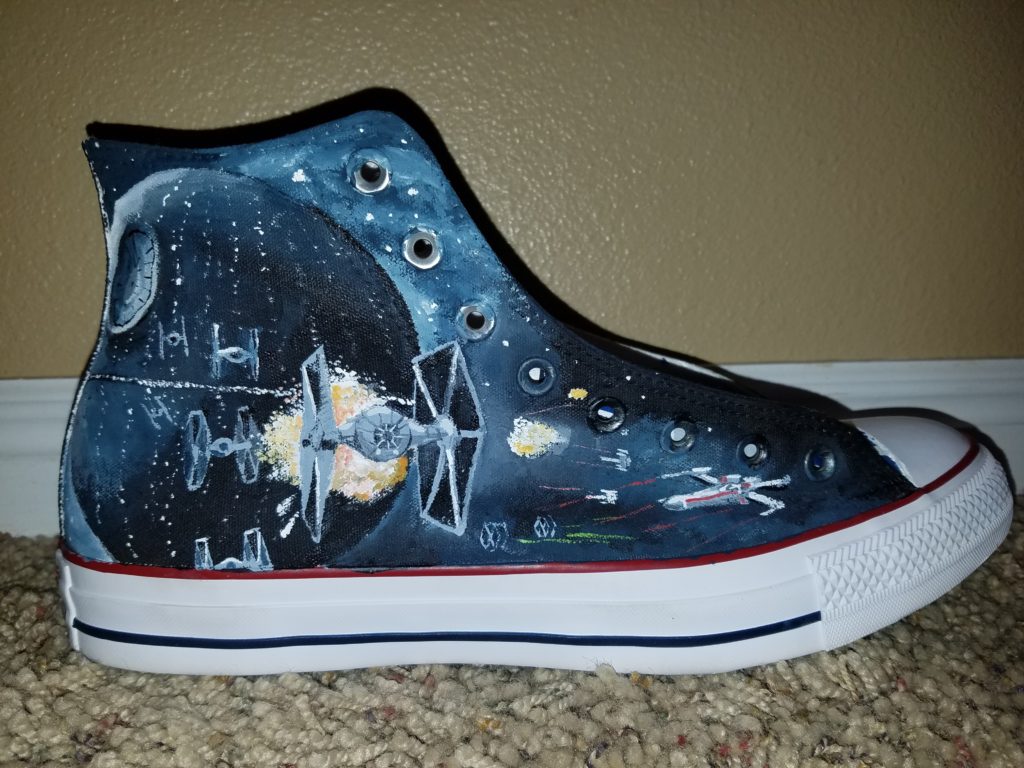 Right Shoe, Inside: Crash-landed on Dagobah (The Empire Strikes Back)
This was the last panel I did. In retrospect, it should've been overall darker. I had to mess with the perspective on the X-wing just a little to get it to fit. R2 is fun to paint, even in miniature.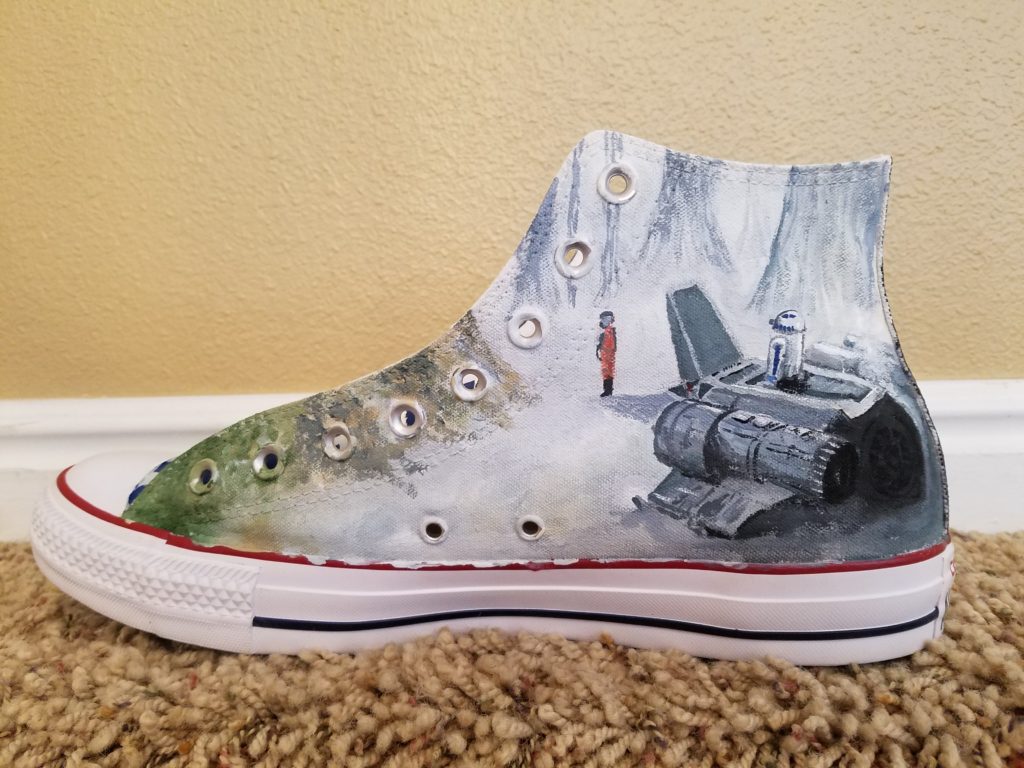 Tongues and Heel Straps (R2D2 & C3PO, Logos)
I always paint the tongues even though they end up getting covered by laces. Since R2 and 3PO are basically the viewpoint characters of the original trilogy, it made sense use them here.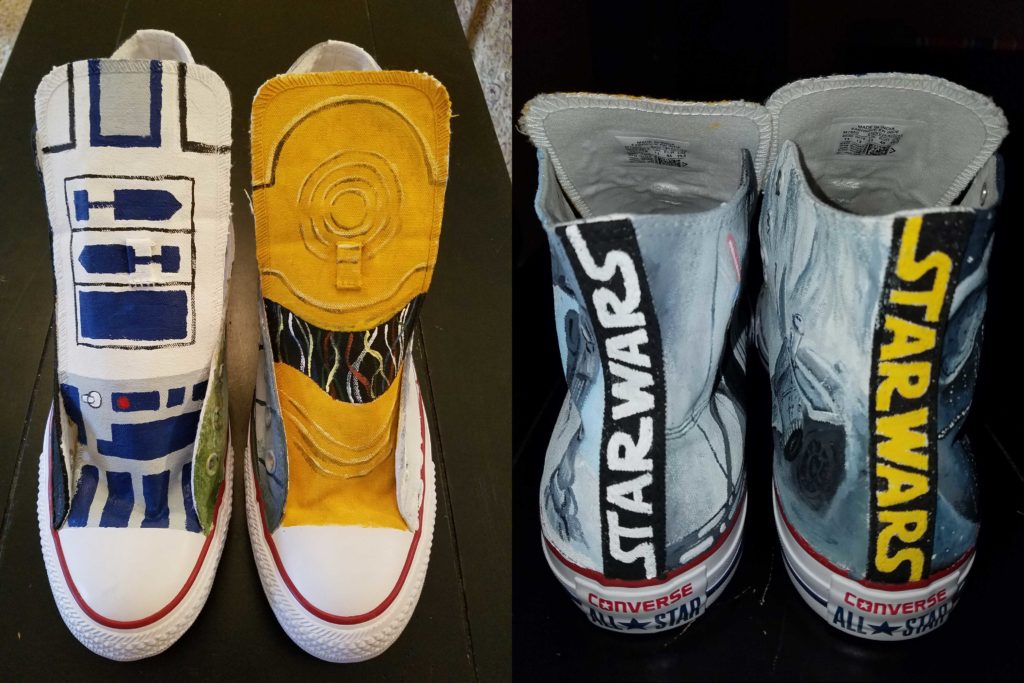 Ethan's Theater Shoes
Just like my kids, Ethan is super involved in theater. But unlike many theater kids, he enjoys the onstage and offstage stuff equally. So he wanted his inner panels to represent the backstage/tech work in theater, and the outer panels to represent some of his favorite musicals.
Left Shoe, Outside: Shrek, Aladdin, Newsies
Three of Ethan's favorite shows.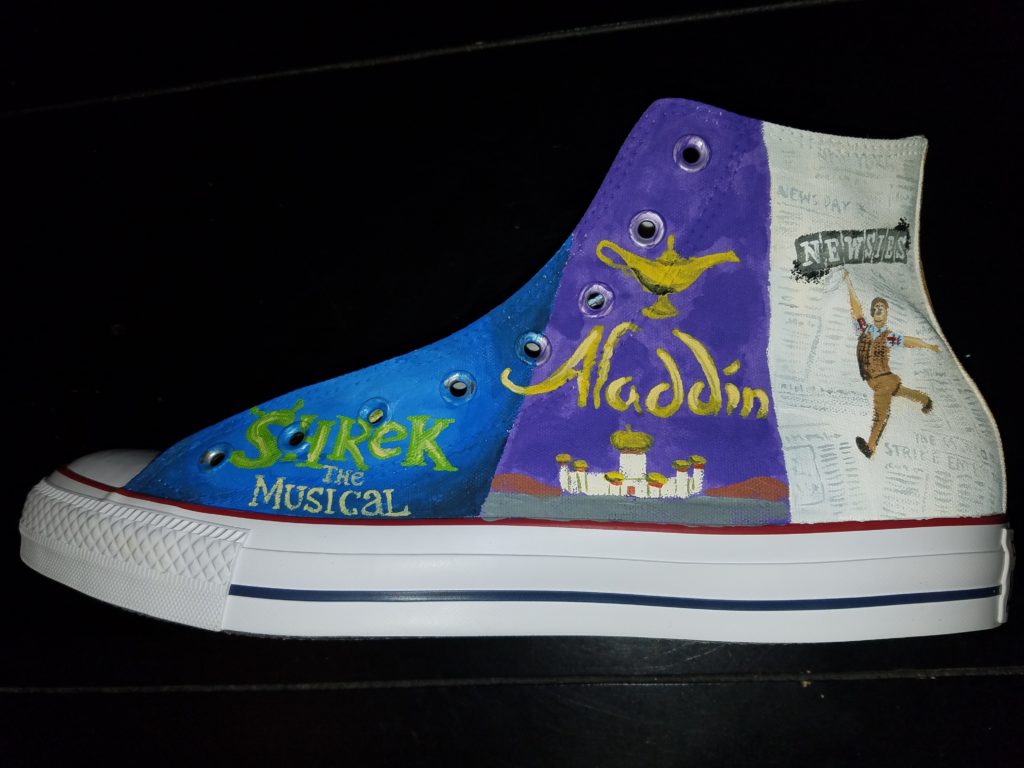 Left Shoe, Inside: Lights and Sound
Because Ethan likes to do both lighting and sound work, I chose a fresnel lantern and a sound board to represent that.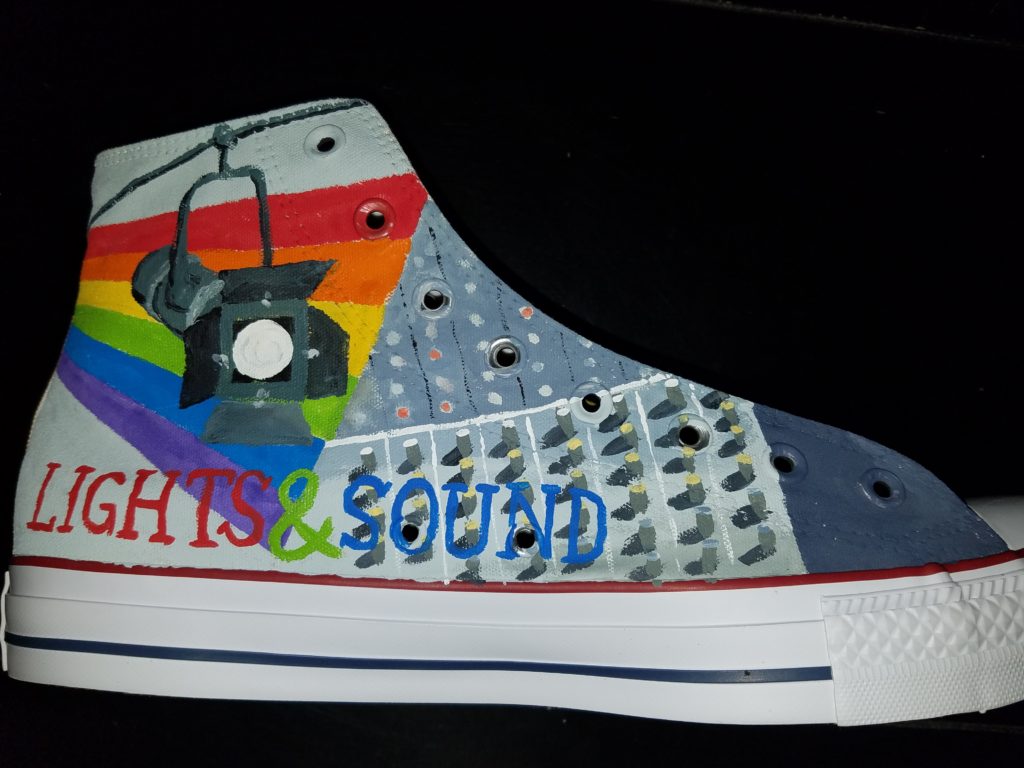 Right Shoe, Outside: Little Shop, Hamilton, The Little Mermaid
Three more of Ethan's favorite shows.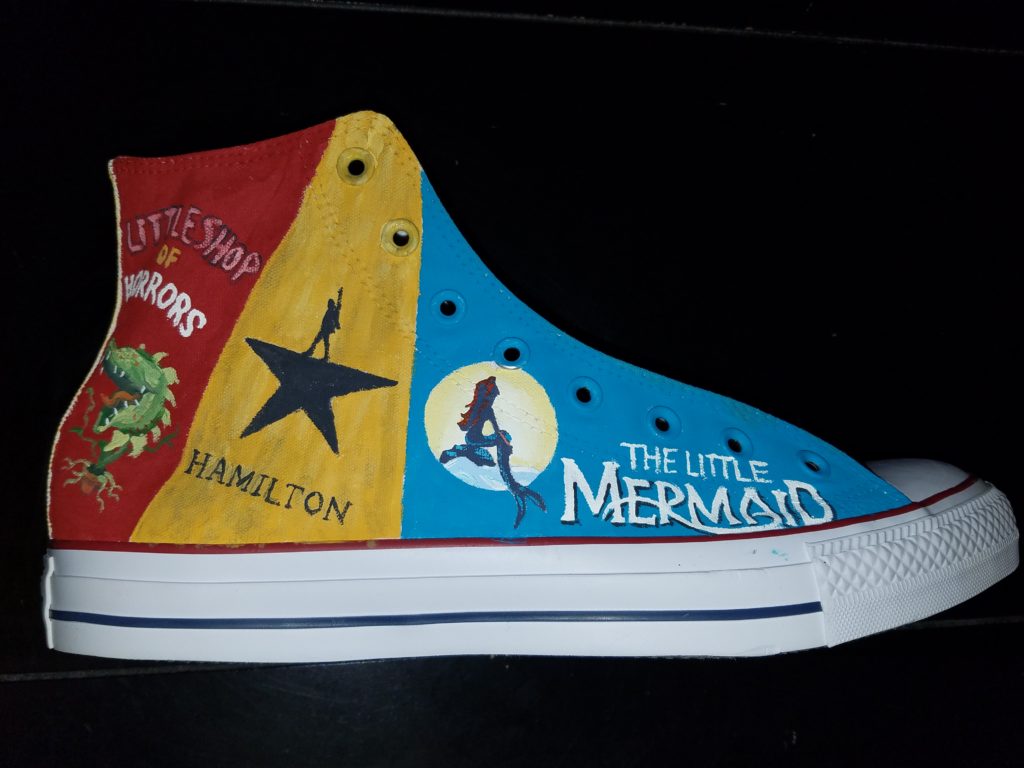 Right Shoe, Inside: Shrek, Aladdin, Newsies
Behind the scenes is all about backstage: the braced-up muslin flats, sight lines and curtains, painting and rigging and construction.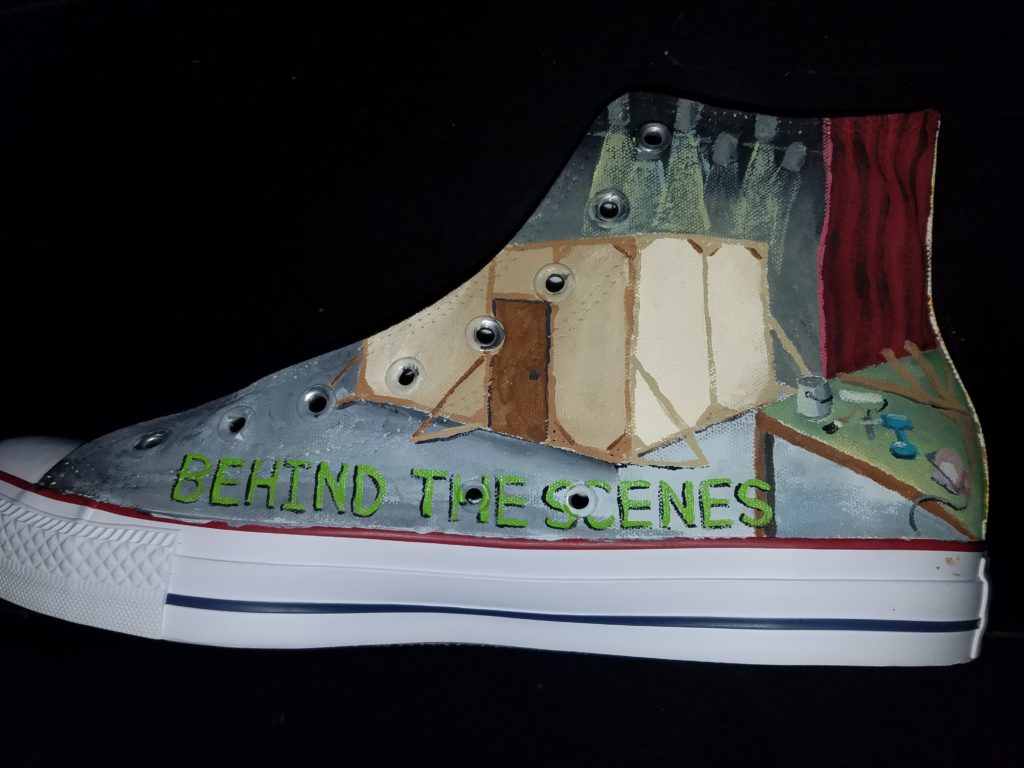 Tongues and Heel Straps (Drama Masks, Measuring Tape and Playbill)
If you've ever been to a Broadway show, you know most of them have the yellow "Playbill" header across the program. The companion, of course, is the measuring tape, which is used in all kinds of theater tech. The tongues got the traditional comedy/tragecy masks, in garish colors that will be covered up by laces anyway.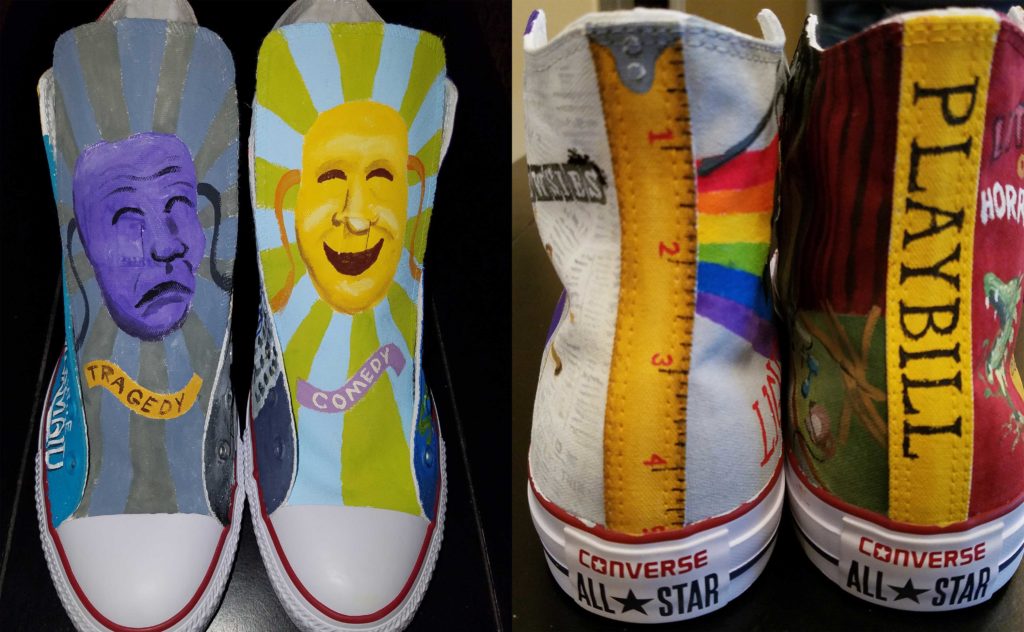 Here are a few detail shots of the individual show panels. Newsies was a particular challenge.