Anyone who knows me (and anyone who's Facebook friends with me) knows I've been running a lot lately. I basically got back on my feet in January 2016 after several years of sedentary life. My motivation was threefold: (a) we now have a dog, and the dog likes to run, (b) my company's wellness program offers some great incentives for physical activity, and (c) I wanted to lose some weight and be more healthy.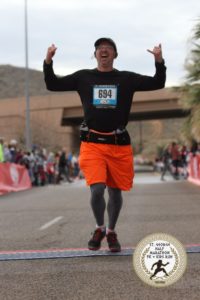 Last year was a pretty good one for running. According to MapMyRun I ran over 1,400 miles during 2016, wearing out three pairs of shoes and several dog leashes. I also shed about 20 pounds, lost several inches in my waist, and gained several inches in my thighs and calves.
This year, I'm trying to do more. After running six half marathons, I signed up for my first full marathon. I'll be running the Salt Lake City Marathon on April 22. In the meantime, I'm running a few races to help me prepare.
Last November, when I was picking up my bib for the Snow Canyon Half down in St. George, I stopped by the booth for the Dogtown Half Marathon, which is held in Washington, Utah. It wasn't a race I'd ever heard of, but the price was deeply discounted, so I went ahead and signed up. A few weeks later I found out about the Double Dog Dare Challenge.
So with most one-way race events, you park at the finish line and catch a bus to the starting line. When the gun goes off, you run back to the finish line where your car is parked. Dogtown's Double Dog Dare gives crazy people the opportunity to run from the finish line to the starting line, then do it all in reverse when the gun goes off. So you end up running two 13.1-mile half marathons—or a full 26.2 miles. Yep, that's marathon distance.
The difference between two halves and a whole is that you get a break in between (if you want one). The rules allow you to begin the "reverse" half as early as 5:00 in the morning. Now, my last two half marathon finish times have been 1:40:51 (7:42 pace) and 1:35:57 (7:19 pace). Even if I "take it easy" and run the first leg at a pace of 10 minutes per mile, that still puts me at the starting line by 7:10, giving me almost an hour to rest and stretch and hydrate so on before the gun goes off at 8:00 and everybody starts the main event.
Crazy? Sure. Doable? I hope so.
We'll see how it goes. My long runs lately have been in the 17-18 mile range, so I feel like I can probably handle this. I'm not going to get a PR (personal record) on either leg, but regardless of my time, tomorrow I'll be running the most miles I've ever done in a single day.
Feets, don't fail me now!