In one of my early posts on this blog, I talked about how I love to write in restaurants. It basically comes down to this: I'm more productive when I write just about anywhere but at home or my regular work environment. I've tried many times to actually figure out why this is the case, but in the end I just learned to accept it. I write best when I "go to work"—as long as it's not the place where I do my regular job.
My requirements for an away-from-home "writing office" are as follows (and in this order):
I need to be isolated in the middle of other people.
I often stay late into the night—so the place should be open past midnight, if possible.
A little background noise/movement is great. People-watching opportunities are welcome. Too much of either … not so good.
Caffeine, caffeine, caffeine.
Wi-Fi access is a definite plus.
Power outlets are my friend.
I'm not a morning person. I write best at night. When I lived in Phoenix and then later in Salt Lake City, there were plenty of places around where I could take my laptop and park myself for a two- to four-hour writing session. As I've mentioned before, more often than not I would end up in a late-night McDonald's restaurant. They all have Diet Coke on tap. They all have Wi-Fi. Many of them have almost a one-to-one table-to-outlet ratio. With a large drink costing just a dollar, that's a bargain in every sense of the word.
I wrote almost all of my first NaNoWriMo novel (the one I'm currently shopping around to agents) in the McDonald's at the intersection of Bangerter Highway and I-15 in Draper, Utah. Technically, the dining room was only open until midnight, but the lady who ran the joint allowed me to stay as late as I wanted. (Their drive-through stayed open 24 hours, so it wasn't like they were sticking around just to let me pound out words on my keyboard.) They cleaned around me. I bought a drink (and sometimes an apple pie) and I was grateful. Often they gave me free food.
Now I live in Cedar City. Our family loves it here. It's a small town in southern Utah about three-and-a-half hours south of Salt Lake City and two-and-a-half hours north of Las Vegas. We have a large state university (Southern Utah University) and world-class theater (The Utah Shakespeare Festival and the Neil Simon Festival) and we're not far from even more amazing entertainment down at the Tuacahn Amphitheater. We also have clean air and amazing scenery and beautiful sunsets and phenomenal hiking trails.
What we don't have a lot of is restaurants that stay open late. We have two McDonald's-es in town. One closes at 10:00 p.m. (11:00 p.m. on weekends) and the other is in a Walmart Supercenter. That one has a metal gate that rolls down every night at 9:00 or 10:00.
So what's a guy to do?
My 24-Hour Options
I have two:
Subway/Love's: My go-to "writing office," Subway is open 24/7 and I can buy a bottomless drink for $1.50. It's less than a mile from home and provides almost everything on my list above. When I say "almost," I'm talking about the Wi-Fi. There are six networks in the building, but not one of them is for public use. The Carl's Jr. next door supposedly has Wi-Fi, but it hasn't worked in several months. Power outlets galore. Friendly workers.
Valerie's: A 24-hour taco shop on 200 North just off I-15. This is a three- or four-mile drive for me. Valerie's used to be a Sonic Drive-in, but they now only do drive-through and eat-in. There's a room in the back that is rarely used—except during their lunch rush and by me. The place has strong Wi-Fi and all-you-can-drink Diet Pepsi, but no available outlets.
That's it. If I only want to work until midnight, there are a few more options: both taco joints. If I don't mind driving, I can go to the 24-hour KB gas station in Parowan, 15 miles away. They have a grill that serves pretty good food and a huge assortment of fountain drink options. I can get caffeine, but no Wi-Fi. But sometimes the trek is worth it just for a change of scenery. Also, there's an adorable cat that digs in the garbage outside, and I sometimes watch him/her when I get stuck on something.
"Close to His Office"
You know how sometimes it's hard to recognize people when you see them out of context? Last year, I was trying to place this guy I'd seen several times at church. I finally figured it out—he worked at my Subway. Daniel and I got pretty friendly. We'd sometimes talk when he was on a break. Sure, it cut into my writing time, but he was a good guy and I didn't really mind.
A few months later we were at a church function and someone asked Daniel where he worked. His response:
"I work right by David's office."
My actual office (in downtown Cedar City) is about three miles away from the Subway out at the junction of I-15 and North Main. But I got it. He worked at the Subway counter, making sandwiches while I toiled away at my laptop a few yards away. Daniel and I shared a good laugh about that.
I was working at the Subway/Love's last night and took a photo of my "writing office." So here you go, folks. Here's where the magic happens: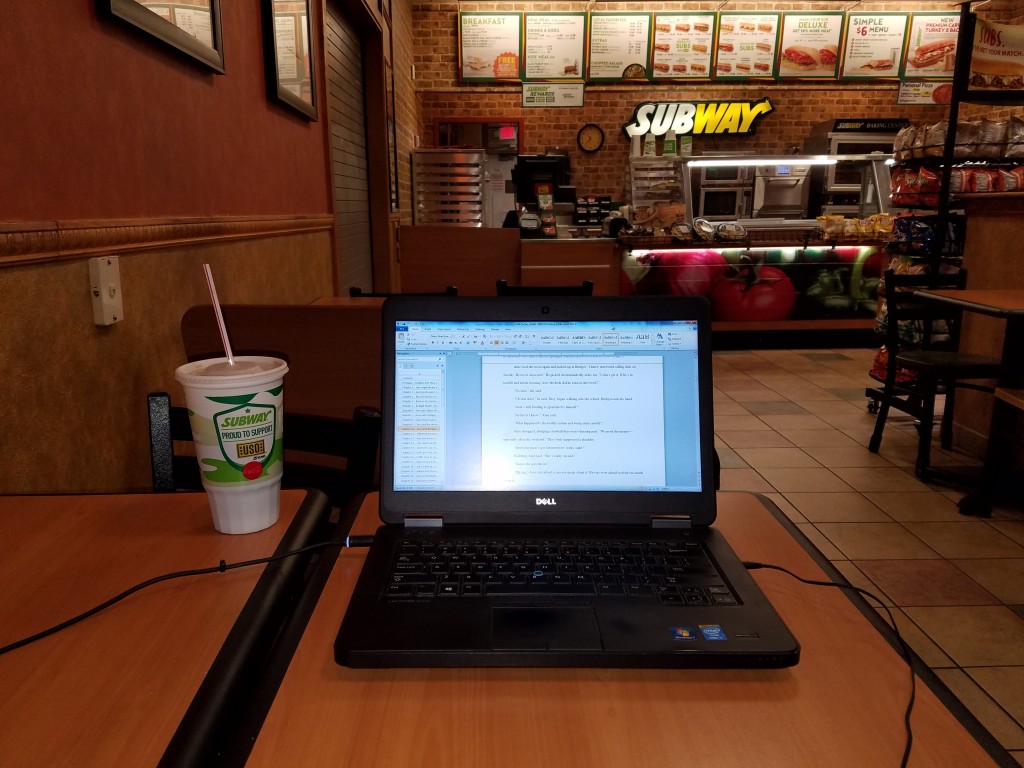 #AmWriting