I'm sure the administrators at Desert Vista High School didn't expect to see their educational institution mentioned in the pages of the New York Times:
PHOENIX — A suburban Phoenix school district is taking disciplinary action after a photo of students spelling out a racial slur with T-shirts showed up on social media.

Tempe Union High School District spokeswoman Jill Hanks said Friday that the discipline process remains ongoing but six girls will be punished in accordance with district policies.

Hanks says Desert Vista High School students were wearing shirts to spell out "BEST(asterisk)YOU'VE(asterisk)EVER(asterisk)SEEN(asterisk)CLASS(asterisk)OF(asterisk)2016" for a senior class yearbook photo. She says the girls in the photo went off on their own and used their shirts to spell out a racial slur, "n—–."
Here's the photo that the seniors intended to take:

Does anyone feel bad for the kid who had to wear the apostrophe? Me too, though I'm happy to see they got that right.
So here's the photo that caused the kerfluffle: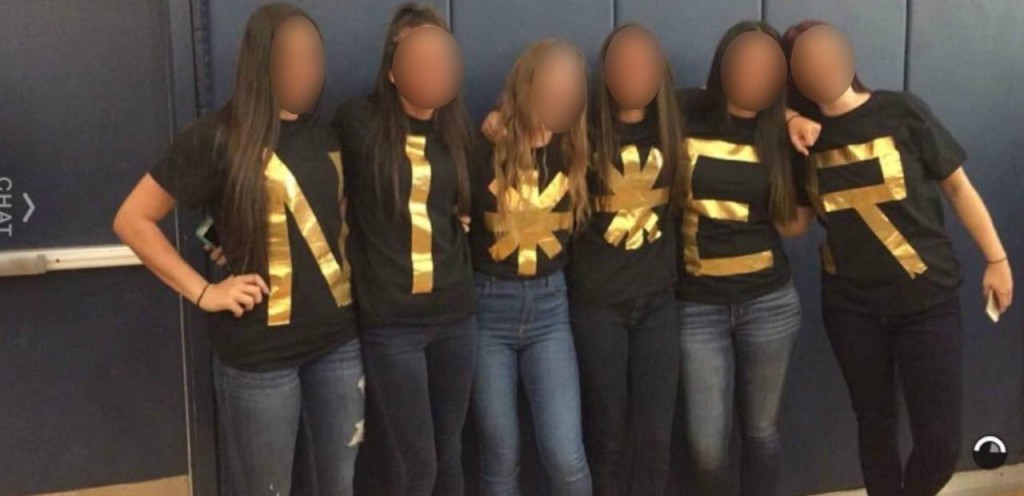 So I have a question, and I think it's a good one. Who gets to decide that the word they're spelling out is an offensive, racist one? By my count, there are seven possible words that these girls could be spelling out, and six of them are completely innocuous:
NIPPER: A child, especially a small boy. OR: Pliers, pincers, forceps, or a similar tool for gripping or cutting. EX: "He's a clever little nipper, isn't he?"
NICKER: (of a horse) Give a soft, low, breathy whinny. EX: "The horse nickered quietly in its stall."
NICHER: One of the players in a market whose products/services are focused to meet specific demand of customers which are not met by mainstream providers. EX: "You can't buy that on Amazon, you'll have to try one of the nicher sites."
NIFFER: A Scottish term meaning to barter or trade. EX: "Aye, I'm a-goin' to niffer me da's bagpipes for a case of whiskey."
NIGHER: Closer in space or time. EX: "The presidential election is getting nigher every day."
NIPTER: The ceremony of foot washing on Maundy Thursday in the Eastern Orthodox Church. EX: "We all enjoyed the sermon after the Nipter service."
Now, everyone knows there's a six-letter word that begins with "NI" and ends with "ER" that white people just aren't allowed to use. Just white people, mind you—African-Americans are permitted to use the word as often as they like. The prohibition is so strong, we're not even allowed meta-use of the word, using the word to indicate the word itself. So we say "the N-word," or we write "n****r" or something else.
Even the New York Times (in its AP article) turned to circumlocution, printing "n—–" instead of the N-word itself. But why? The girls in the photo above spelled out "NI**ER." They didn't spell out the N-word. They didn't spell out "n—–" because there are no hyphens in the original message, so that character wasn't available.
If printing the N-word is racist, but printing "n—–" is not, what's wrong with standing together wearing tee-shirts that just happen to spell out "NI**ER"?
Maybe I'll break protocol here and say the real N-word. Ready? N-word. N-word. Ni**er. N—–.
DANG IT!
Political correctness is moving us nigher and nigher to the day when we'll have to niffer every one of our personal liberties to please our cultural masters. Until then, we should all be niggardly in the allowances we give to the so-called elites who tell us what we should and shouldn't be allowed to say.