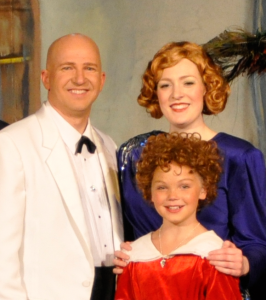 This past June, I had the pleasure of playing the role of Daddy Warbucks in a local production of the musical Annie. It was especially fun because I got to share the stage with all three of my children. Like many stage productions, there are several documents in Annie that are fairly important to the story. Purely because I enjoyed it, I decided to create more or less "authentic" looking documents for us to use on stage.
Since I know there are plenty of productions of Annie going on all over the country each year, I decided I would go ahead and make these documents available to others. So here is the full set, for anyone to use with my compliments.
Act I, Scene 1: Annie's Note
In the very first scene, Annie comforts Molly by reading the note left with her by her parents. I made up two notes because we had two Annies. If you crumple them and smooth them, crumple them and smooth them, and then bite off the corners with your teeth, it makes them look old and worn.
Act I, Scene 4: Orphan Rental Agreement
When Grace first visits the orphanage, she presents Hannigan with an "official-looking document" and tells her to sign it. The script doesn't really say what kind of document this would be, so I figured it had to be some kind of rental agreement, complete with Mr. Donatelli's signature. Print on plain white paper.
Act I, Scene 6: 1930's-era Fake Money
This isn't actually in the script, but in the NYC scene I had Warbucks tip a photographer with some paper money from his billfold. Since I didn't want to have to work with real dollars, I printed this stuff up instead. It's 20% larger than regular money, and just in case that wasn't enough, I replaced Mr. Washington's face with one that will probably be familiar. Print back to back on white paper, then cut apart.
Act II, Scene 1: Burt Healy Script
For the radio scene, I created a script that several of us could hold and work with. You'll note that there are several lines in there that aren't really in the script, mostly because I figured people would get off and so on. I ended up printing several copies for myself, because I tossed them in the air while I exited, scattering them all over the stage. Print on plain white paper.
Act II, Scene 4: Letter from Elliot Ness
When Warbucks and Annie get back from their trip to the White House, Drake brings out a letter from Elliot Ness that explains about the locket. I should point out that the signature on this document is actually Elliot Ness's signature, which I lifted from a historical document that I found online. Not really necessary, I why not? Print on plain white paper.
Act I, Scene 7: Deed of Adoption
When Grace visits the orphanage the second time, she brings with her yet another paper for Hannigan to sign, this one consenting to Warbucks' adoption of Annie. This one is totally made up, but it looks official enough. Print on plain white paper.
Act II, Scene 3: Telegram from Grace
In the cabinet room at the White House, FDR receives a telegram, which turns out to be from Grace to Warbucks. The telegram I created is actually based on a telegram from the period. I had it printed on a cream-colored stock.
Act II, Scene 5: Annie's Birth Certificate and The Mudge's Driver's Licenses
When Rooster and Lily visit the Warbucks Mansion dressed as Ralph and Shirley Mudge, they present Grace with fake driver's licenses and a doctored-up birth certificate for Annie. I printed the birth certificate on light blue paper and the driver's licenses on white card stock, and folded them over. Both are based on documents from the period.
Act II, Scene 6: Letter from the FBI
In the final scene, while the orphans are getting their Christmas presents, Drake enters and gives Warbucks a letter from the FBI, which tells everyone exactly who Rooster is. Print on plain white paper.
Act II, Scene 6: Certified Check for $50,000
Later in the final scene, Warbucks finally presents a check to Rooster (a.k.a. Ralph Mudge). I printed these on goldenrod paper and cut them up. I needed at least one per show, because I tore up the check and threw the confetti in Rooster's face just to tick him off.
So there you go. Hope someone finds these documents and uses them.