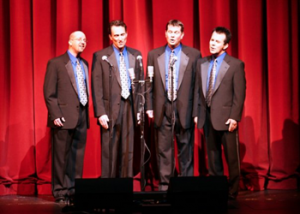 This is THE week, if you're a barbershopper. Every July, thousands (though fewer every year) of men and the women who tolerate them flock to some unsuspecting city for the international barbershop convention, which also features the international quartet and chorus contests. This year, the big event is in Toronto, Canada.
For almost a dozen years, much of my personal identity was tied to a rather arcane form of music called barbershop harmony. Earlier this year, I left "the hobby," as many barbershoppers call it. I actually watched part of the collegiate quartet contest last night, and found myself both missing and not missing the yearly event. I wish I was there, but at the same time, I'm happy as a "recovering barbershopper."
I still vividly remember my very first barbershop concert. I was living in Logan, Utah, and through a friend I had joined a small singing group called the Bridgerland Barbershop Chorus. Within a few weeks, we put on a concert at a historic concert venue, and had as our invited guest a group that made the 90-minute drive to share the stage with us. Since our numbers were few, this 100-plus-member men's chorus seemed incredibly impressive. Directed by quartet gold medalist John Sasine, the Saltaires Chorus sang with a huge, polished sound. I still remember watching them troop down the stairs into the warmup room—a seemingly endless stream of white-jacketed men, their smiles accented by stage makeup, talking and laughing as if they were members of an elite fraternity. Which they were. It was my first introduction to large chorus barbershop.
From there, I went deeper into the hobby. I formed a quartet with some friends, and then another. When I moved, I joined the local chorus in my new state, and eventually ended up directing the group. I formed another quartet, and then another. I began to compete. I moved again, and began competing with a bigger, more polished chorus.
Around this time, I got a chance to attend Harmony College (as it was then called) in St. Joseph, Missouri. As it turned out, one of my roommates during this intensive week-long event was from Salt Lake City, and sang with the Saltaires. When I told him how impressed I had been with his group, he rolled his eyes. "Things are different," he told me. "John is driving people away." I thought at first this had to be sour grapes, but as I watched the group in competition over the next several years, I saw a group in decline. Something was obviously happening, and it wasn't positive.
Whatever—I was in Phoenix, enjoying my time with the Spirit of Phoenix Chorus. This was a fairly new chapter that almost literally rose out of the ashes after a very hurtful scism that had happened before I moved my family to Phoenix. The group wasn't perfect, but they were welcoming and worked hard and always tried to rise to the occasion. I made many life-long friends in that group, and was sad when, seven years later, I had to pack up and move again. I was heading back to Utah, but this time I would be in Salt Lake City.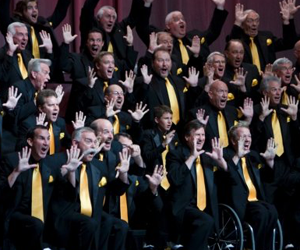 During my first week back in Utah, I sought out the Saltaires. I knew they were the only real competition-level chorus in the state, so I figured I needed to be part of the group. What I found, at my first rehearsal, was a fairly casual group of 45 or so singers, still (actually, again) led by John Sasine. They gave me a moderately warm welcome and stuck me right on the risers without an audition. Just a few weeks later, I performed in their spring concert, which featured the quartet Max Q.
It didn't take long to figure out the pattern of the group. Attendance was spotty, with maybe 50-60 percent of the group showing up on a given rehearsal night. Though John was the director, he was often not there, and on those occasions rehearsals were conducted by two competent assistant directors. When John was there, he was either aloof—basically just going through the motions—or right on the edge of angry. He would get into what I will refer to here as "jerk mode," where he would get frustrated by something the group or an individual was doing and just explode at them. Often, he would take an odd passive-aggressive approach and actually yell at someone who wasn't doing anything wrong, just to make his point. I thought this was a terrible way to try to direct a chorus, but hey—he was the director.
With the spring concert out of the way, we began working toward the 2012 international contest, which would be held in Portland that year. I wasn't originally planning to attend, since I was still at a brand-new job and didn't really have the vacation time coming. I could afford it, but just barely. My section leader and several from the chorus leadership literally begged me to attend. The group had already dwindled to under 30, and only one other tenor was going to make it to Portland. If I could swing it, that would make two. I eventually made the sacrifice and took the trip, though I ended up having to put in half days of work on my laptop (on top of everything else) to make it happen.
Unlike my earlier group, the Saltaires took a very different approach to preparing for contest. For one, they didn't even really decide on the contest songs until about two months before the event. My other chorus had put in long hours, conducting weekend retreats and special rehearsals to polish things up for the big event. Under John's direction, the Saltaires were quite the opposite. The director didn't even bother to show up for several of the rehearsals leading up to internationals, and on the weeks he was there he actually ended rehearsals early. John's attitude seemed to be that we would do just fine, and that we really didn't need any additional work. He seemed detached and disinterested. I got the impression that he wanted to get the chorus stuff over so he could get to doing whatever it was he really cared about.
In the contest, we placed 20th out of 28 choruses. Embarrassing. We got what we had earned. As I had suspected, we definitely could have used a little extra work.
When I competed with other groups, the hot topic immediately after the contest was always, "What could we do to improve? What do we need to change?" In Portland on Friday night, I actually tried to get some of my chorus mates talking, to see whether 20th place was a result they wanted to accept—to find out whether anyone was actually interested in change. Strangely, nobody seemed to even want to talk. Only later did I realize why: there were members of the group who were tight cronies of John Sasine, and knew he wouldn't want to hear any criticism about his leadership or strategy or techniques. Little did I know that my earnest attempts to find out whether anyone wanted to improve were being carried straight to Herr Direktor himself, who took everything as a direct, personal attack.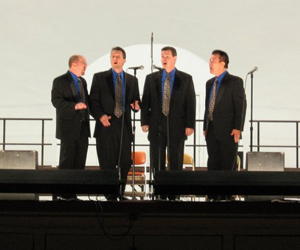 Eventually, the group got around to addressing the fact that (A) the once-mighty Saltaires had scored pitifully low in international contest, and (B) the group was hemorrhaging members. We had a few meetings during which ideas were solicited and taken from the group. Of particular interest was the fact that John Sasine did not attend these meetings. They were run by members of the board and music team, but the director was conspicuously absent.
Very few real changes came from these "come to Jesus" meetings, but a modest plan for improvement was presented to and ratified by the group. For the next couple of months, I began bringing my teenaged sons to chorus rehearsals. Both of them performed and competed with the Spirit of Phoenix Chorus for several years. Because of this, I thought it was very odd when several members of the chorus leadership approached me and asked me whether the boys would be "trying to join" on a permanent basis. I said they probably would. The reaction was a caution and a warning: John didn't like "unpolished talent," especially teenagers, and was especially hard on them in rehearsals and especially in auditions. One of the chorus leaders actually told me that he had specifically decided not to bring his own boys to join the group for this reason.
Just a word about my boys: they are 13 and 15, both of them taller than me, both of them good, experienced singers. My older son competed on the international stage twice before moving to Utah. Both of them competed in both division contests in Arizona and in district contests in the Far Western District. Ask anyone from the Greater Phoenix Chapter; they're good kids.
By mid-October, nothing much had changed. Oh, they moved the start time of rehearsals from 7:00 to 7:30, which meant the "early birds" began setting up the risers at 7:35. But I was sticking it out. Then the chorus announced the date of the group's one and only Christmas concert. After checking my calendar, I realized that the concert—which the group would be spending the next two months preparing for—was on the same night as my daughter's violin concert, both boys' orchestra concerts, and my wife's school play. Since there just wasn't any way any of us were going to be able to do this, I informed my section leader (and assistant director) of the conflicts and bowed out for the season. I told him I would see him in January.
By the time the new year rolled around, my boys and I were jonesing for some barbershop. I was ready to get back on the risers and perform. We were even more excited because we knew that our favorite quartet, Vocal Spectrum, was going to be performing at the upcoming spring concert. My entire family listens to VS—we're all huge fans. We also love everything that's been recorded by VS's tenor, Tim Waurick. It was something to look forward to.
Weekly rehearsals, on the other hand, started to become something to dread. There were even fewer guys showing up to sing, and John was Linda-Blairing into "jerk mode" more and more often. Kenny, my section leader who had literally begged me to accompany the chorus to internationals, was also being more and more critical of my own singing. John was blowing up regularly, and several times yelled at one of my boys or another. It was like a dysfunctional family, with John playing the role of the angry father, first abusive, then aloof, then our very best chum. It got old really quick.
One night after sectional rehearsals, John seemed especially perturbed. Apparently he had been working with the lead section, and had been pulling rank and dropping names. In this way, apparently, he discovered that my boys (who know just about every quartet that has medaled since Y2K) had never heard of Nightlife. Of course, Nightlife is the quartet with which John won his gold medal about 100 years ago. He seemed to take their lack of knowledge as a personal affront. And I'm sure he blamed me. It didn't go over well.
In late February, the leadership decided to have a Saturday rehearsal to prepare for the upcoming concerts. For whatever reason, John decided to fly in his three quartet mates from Nightlife so they could help with the event. It turned into a very long day, with many hours on the risers. With his quartet buddies there, John was mostly on his best behavior. (He did, at one point, scream at me that he was going to cut off my hands. But to be fair, I happened to have them in my pockets at the time.) It was an exhausting day, but not (in my opinion) terribly productive. If I had known what was going to happen, I honestly wouldn't have bothered—and I certainly wouldn't have subjected my boys to the ordeal.
The concerts were getting nearer, and my boys were working hard to learn all their music. They were coming along very nicely, and had received some personal coaching that had made a big difference. At the first rehearsal in March, attendance was again low, and Kenny and I found ourself alone in a "sectional," working on a song that we both already knew backwards and forwards. Kenny asked me at one point, "So, what are your plans with the chorus?" I had told him before how disappointed I was that so few of the changes that had been promised the previous August had ever actually come to pass. He also knew that I didn't have a lot of respect for John as a director (much less, as a human being). I simply told him, "I'm not sure, but I'm thinking of leaving after this upcoming concert." He shrugged and told me he thought he understood.
What happened after that is the reason I'm no longer a barbershopper.
On Friday, March 8, Kenny called me on my cell phone at around 3:30 in the afternoon. I walked outside to take the call, since there is very little privacy in my office. The reason he was calling, Kenny said, was to ask whether my boys were planning to sing with the chorus on the upcoming show. "Yes," I told him, "and they're ready to audition." After a moment's hesitation, Kenny informed me that John had specifically asked him to call me and let me know that he didn't want my boys singing on the show. My reaction was, "Well, I'm sure they'll be disappointed, but they were looking forward to meeting the guys from Vocal Spectrum and I guess they can see them just as well from the front of the curtain as they can from behind it."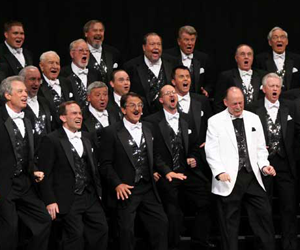 It turned into a little discussion. I told Kenny that I couldn't imagine any of the big choruses (the Masters of Harmony, the Ambassadors of Harmony, the Vocal Majority, the Sound of the Rockies) turning away young talent. I couldn't imagine many of the smaller groups turning away a man who could fog a mirror. I know the more successful choruses of the Barbershop Harmony Society were bending over backward to attract younger, second-generation barbershoppers, but it was apparently John's call. With the way the Saltaires' numbers had been dwindling, I honestly don't understand how they could be turning away enthusiastic young singers. But that was neither here nor there.
It was at that point that Kenny revealed his real reason for calling. John was unhappy with my "level of commitment," he said, and what's more—he was unhappy with my "attitude." He had apparently cited the "break" I took during the Christmas season as evidence for my lousy disposition. I reminded him of the reason for my two-month absence, and he agreed that there wasn't much I could have done about it. But apparently family conflicts weren't a valid excuse. In fact, Kenny told me, John had asked him to convey to me that I was no longer welcome in the Saltaires. "So John's kicking me out of the chorus?" I asked. "Yeah, pretty much," was his answer. What do you say to that? I told him okay, said goodbye and hung up.
I honestly couldn't believe it. I had been blackballed by my chorus. For some reason, when I went back inside, I opened up the chorus's website. There on the site were five "reasons" that everyone should want to sing with the Saltaires:
They sing their hearts out.
They are continuously sharpening their singing skills.
They establish lasting friendships.
They enrich lives – yours and others.
They have fun.
I laughed so hard, my co-workers wondered what was wrong with me. Just out of curiosity, I opened up the chorus's "members only" site. My account had already been deactivated. Whoa, that was quick.
To me, being a barbershopper has always been about two things: harmony and brotherhood. Barbershop is supposed to be a fraternity, but it's not supposed to be an exclusive fraternity. It's supposed to be apolitical, though I guess there's a big difference between local, state and national politics and the in-group politics of a dysfunctional group. I find it impossible to gin up any respect for an organization that allows its musical director (who, by the way, is not the chapter president, or even a member of the board of directors) to unilaterally eject a person from the organization. Putting myself in Kenny's shoes, I can't imagine myself ever—in any context—making that call. My response, if a petty despot of a failed organization asked me to eject a member, would have been: "You want him kicked out, John, you can call him your own damn self."
But I guess that's just me.
Since my rather abrupt departure from the Saltaires Show Chorus, more members have dropped out. (A few of them have contacted me personally to let me know.) Other current members and former members have commiserated with me privately, assuring me that I got a raw deal and that they thought I was treated badly. One of my former chorus mates told me recently that attendance at Saltaires rehearsals is even worse than before, and that there have been times when the group had to delay the start of rehearsals because they didn't have all four parts represented. Apparently the once-mighty chorus, which used to pack over a hundred men onto the risers, is in its death throes.
Good. Any organization that allows a miserable, petty man like John Sasine to personally banish individual members deserves to die a speedy demise. Any organization that turns away young men who want to sing deserves the same fate. Any group that would deny my boys the opportunity to perform with their idols deserves to malinger and then fall.
After I was kicked out of the chorus, the group's immediate past president attempted to explain to me, in a series of e-mails, why current chorus members accept things as they are. As he said, "The current chorus culture is what it is, with its good and not so good.  It does require a thick skin and buying in to the culture that we aren't a 'teaching and training' chorus, but require guys who can catch on to the song level and barbershop style extremely quickly."
Excuse me? Not a "teaching and training chorus"? That goes against everything I know and understand about barbershop harmony, from the foundation of the society up to today's re-emphasis on perpetuation through youth recruitment. Not a "teaching and training chorus"? No wonder the chorus is dying.
He went on: "In short, yes, John can be difficult to work with.  I've had the chance to work closely with him for many years now. On a professional level, I've never worked with anymore more difficult. Perhaps for that same reason, pleasing him is especially gratifying…" This man—the same father who refused to bring his teenagers to sing with the chorus—continued: "[John] has high expectations for the chorus because he knows the guys' potential abilities.  When it doesn't meet that expectation, he gets upset.  Again, I'm not saying that's right, but I've learned that and understood it now for quite a while, which is why I'm more thick skinned and more supportive of him than most.  But, I do not deny that he has a poor approach to motivation."
I would certainly agree that turning away young singers and kicking out experienced ones probably qualifies as "a poor approach to motivation." Exit question: am I the only one who thinks this sounds like a battered wife justifying her abuser's actions to a child? Doesn't this sound a lot like "Daddy only beats us because he loves us"?
Perhaps someday in the future I will be a barbershopper again. Maybe I'll move to a new city, or maybe the Saltaires will go belly-up and a younger, more progressive group will take its place. Until then, based on my experience with the Saltaires and John Sasine, I won't be considering myself a barbershopper. Sadly, neither will my sons.
Oh well. There are other organizations out there that "keep the whole world singing." And I'm sure lots of them are led by men who don't have a "jerk mode."